AEG Tumble Dryers Compare Prices
Dryers with Touch Control Screens
AEG's history spans over 100 years, and from its first impressive designs come the innovative appliances we see today. The German company use the most advanced technology in its latest sensor-controlled tumble dryers. Clothes are gently dried with special cycles to suit the load.
AEG Tumble Dryers
AEG Washer Dryers
AEG L7WC8632BI 7000 Series 8+4kg 1600 Spin Integrated Condenser Washer Dryer
Electric Shop
Compare Price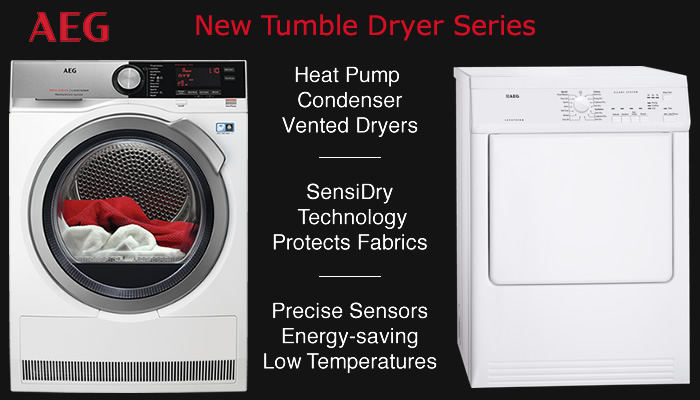 Latest AEG Tumble Dryers
Discover the latest features and drying programmes to suit all your laundry needs. New AEG tumble dryers include vented condenser and heat pump models with improved designs and intelligent sensor drying. Look out for specialist programmes maintaining the shape and quality of the fabric, restoring waterproofing of outdoor garments along with wool and silk tailored programmes.
---
Clear Digital Display
Crystal clear LCD touch control screens display the progress so you can see settings at a glance. Ultra-efficient airflow, larger 9kg load capacity and more uniform drying are also featured on these latest models.
Heat Pump Tumble Dryers
Class A energy labelled tumble dryers are best for unparalleled efficiency, consuming far less power than other models. But it's the Sensidry condenser dryers that take this a step further by using pioneering heat pump technology providing 50% extra energy efficiency. New models come with a silent running system and a full range of programmes to help you care for your clothes. Dryers are designed to adapt to suit the exact load enabling you to dry half loads and small loads without wasting energy.
Vented Dryers with Reversible Doors
Extra features seen across AEG-Electrolux tumble dryers include a drum light to help with loading and unloading laundry. Quick settings and greater drying performance speed up wash day so you can get on with the better things in life. AEG also make vented tumble dryers with reversible doors so you can customise the dryer to best suit your space. Another handy feature is the delay cycle timer. Drying can be delayed by 3, 6 or 9 hours.