Beko Tumble Dryers Prices and Models
Beko Vented & Condenser Tumble Dryers
Turkish brand Beko makes condenser and vented tumble dryers with sensor drying functions and a reversible door. Sensors are a great energy-saving feature where the drum detects how wet the load is and stops when it is dry. Some have a delay start option so you can start the drying cycle at a time that's more convenient with you. Find the latest models and compare Beko tumble dryers prices and features.
---
Beko Vented Condenser & Heat Pump Tumble Dryers
Compare Beko Tumble Dryers Prices
Models include easy to load and unload dryers with good condenser unit efficiency, evenness of drying and extra-large load capacity of 8kg. Best of all you will find slim depth tumble dryers that are 54cm deep perfect to fit into smaller spaces.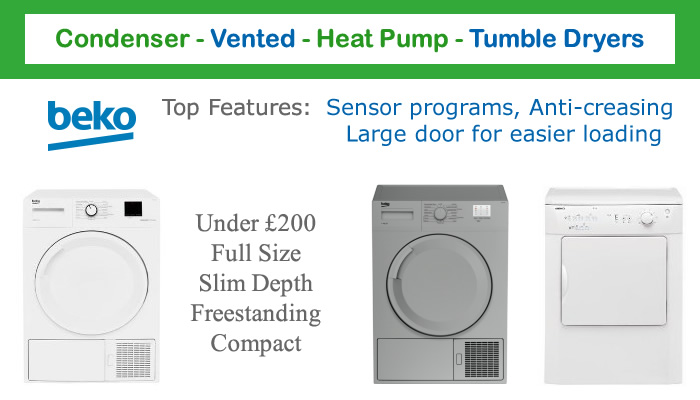 Latest BEKO Tumble Dryers
Shop the latest Beko Tumble Dryers including vented, condenser and energy saving heat pump types. Freestanding, integrated, full size, compact and slim depth tumble dryers come with a range of features.
Which Tumble Dryer Reviews
Beko tumble dryers reviewed by Which? found condensing machines that not only saved time and money but proved consistently fast with excellent drying results. Best Buy choices included B-rated models that coped well with small and larger loads. Easy to use and handy features include a drum light to help with loading and child-proof lock safeguarding your chosen program from being accidentally changed.
Anti Crease Cycles
A good choice of programs with manual and automatic timed drying does a good job of detecting when your laundry's ready. The anti-crease cycle reduces wrinkles by rotating the drum for up to two hours if you don't empty the load straight away. Large load tumble dryers also tackle bulkier items like duvets. Vent hose or condenser hose is supplied on some models.
Energy Saving Dryers
Beko has fast become a leading brand of white goods in Europe and the UK. Reliable and energy saving appliances can be found across an extensive product range including tumble dryers, refrigeration, freezers, washing machines, dishwashers and freestanding cookers