Bosch Tumble Dryers Compare Prices
Types of Bosch Tumble Dryers
Another award-winning German brand with high-quality home appliances that saves time and money. Just like the Miele brand, Bosch excels in producing reliable products packed with the latest features, programmes and extras to make life easier.
---
Compare Prices on Bosch Tumble Dryers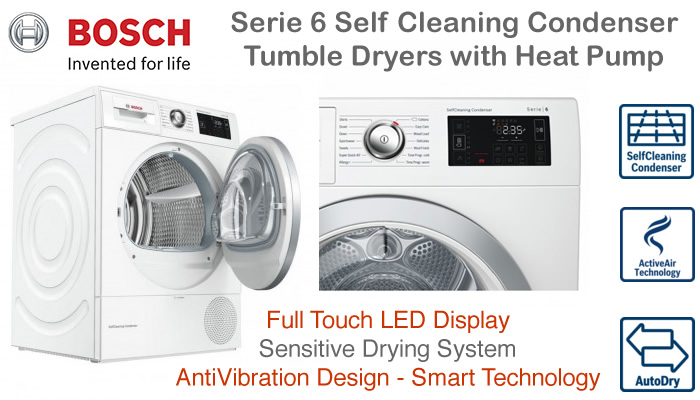 Latest Bosch Tumble Dryers
Shop the latest Bosch Tumble Dryers including vented, condenser and energy-saving heat pump types. Freestanding, integrated, full size, washer dryers, wifi connected tumble dryers come with a range of smart features.
Bosch Washer Dryers
Bosch Wifi Connected Tumble Dryers
Their continuous innovation in functionality and design produce outstanding domestic appliances. The EcoLogixx 7 condenser tumble dryer is a fine example that takes 7kg of clothes and claims to be 40% more efficient than A-rated models. Take a look and compare prices of Bosch Tumble Dryers included WiFi connected tumble dryers with smart features.
Vented and Condenser Tumble Dryers
Their collection of tumble dryers include Bosch Classixx a simple practical range of vented and condenser types with three drying levels and 7kg capacity. For added value and reduced iron features in a choice of white and silver models is the Avantixx range, next up takes you to the Exxcel mid-range and then on to the premium EcoLogixx dryers. These higher-end condenser tumble dryers are more energy-efficient and rated Energy A.
Advanced Tumble Dryer Technology
Advanced features include sensor programmes, heat pump technology, timer with time delay 1 – 24 hours, freshen up, super quick, anti-crease, wool finish, self-cleaning heat exchanger plus a design upgrade with LED display and drum interior light. If you are looking for a no-fuss easy-to-use tumble dryer and the low energy consumption is not a priority, then there is the Classixx 7 Condenser dryer.
Compare tumble dryer's features to find the best price and type to suit your needs. Basically, there are four types: electric vented, electric condenser, gas vented and compact. Electric vented tumble dryers can work out cheaper from around £100 but will have to be positioned near a window or door to vent the air away. Many manufacturers make this type: AEG, Beko, Bosch, Electrolux, Hotpoint, Indesit, Miele, Siemens and Zanussi.