Hoover Tumble Dryers Compare Prices
Compare Hoover Tumble Dryers Prices
Hoover offers a range of traditional vented, condenser, and heat pump tumble dryers with a mega load size of up to 10kg. Their latest collection of Aquavision Dynamic models include a variety of features, programmes and stylish finishes for you to choose from. Take a look at the latest range and compare prices on Hoover vented, condenser, and heat pump tumble dryers.
Compare Prices Hoover Tumble Dryers
A household name is known worldwide as a maker of quality domestic appliances including tumble dryers. Originally founded in Ohio in 1908, Hoover is today part of the Candy Group based in Northern Italy.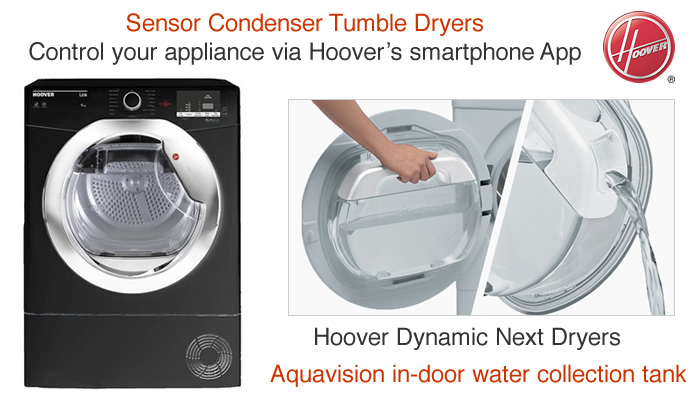 Latest Hoover Tumble Dryers
Shop the latest Hoover Tumble Dryers including vented, condenser and heat pump types. Freestanding, extra large 10kg, wifi connected tumble dryers come with a range of smart features.
---
WiFi Connected Heat Pump Dryers
New WiFi-connected tumble dryers feature smart technology, keeping you in control at all times. These use an Android smartphone that allows you to control, monitor and manage the appliance via your mobile device through the Hoover wizard app.
We love the latest Aquavision models that come with an easy empty condenser container. The Aquavision water reservoir is built right into the tumble dryer's door making it easy to see when it needs emptying and has a convenient handle.
Condenser and Vented Drying Machines
Choosing between a condenser or vented tumble dryer is ultimately down to whether you have the facilities to locate the dryer close to a window. If you can then the vented hose can extract the moist air but this is not the case for many people which is why condenser tumble dryers are most popular. Water vapour is collected in an internal reservoir making them a versatile option with fewer restrictions when it comes to positioning.
Extra Large Tumble Dryer
Hoover's Dynamic range is convenient to use with an extra-large drum capacity for a full drying load. Simple to operative with improved features, LED display, sensor drying system, large door opening for easy loading and unloading plus plenty of intelligent programs to make your busy life easier and wash day less of a chore.
The latest Dynamic models with AquaVision Reservoir feature 4 new drying programs. Along with an anti-crease cycle to help with ironing there's; Relax, Mix and Dry, Shirts, and a Rapid 40 programme. You'll find these energy-efficient B-rated models have low energy consumption too.