Miele Tumble Dryers Compare Prices
Miele Tumble Dryers
Miele is a German manufacturer founded in 1899 by Carl Miele. The family-owned and family-run business continue to produce high-quality domestic appliances that are made to stand the test of time. The Miele motto "Forever Better" is reflected across their whole range.
Compare Prices on Miele Dryers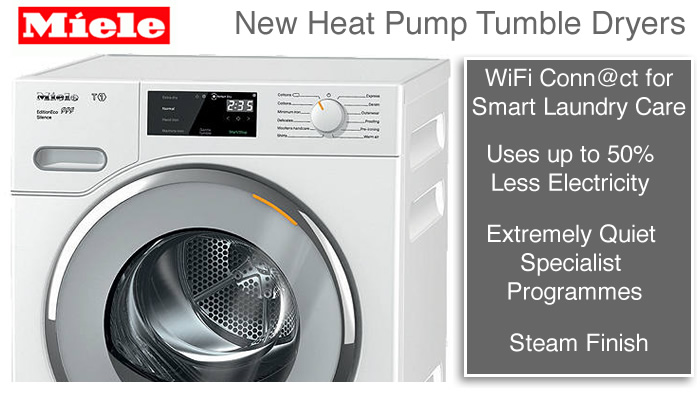 Latest Smart Miele Tumble Dryers
Shop the latest Miele Tumble Dryers including vented and condenser models. Plus extremely quiet heat pump dryers that use up to 50% less electricity. New smart tumble dryers feature extra large 9kg honeycomb drum, sensor drying, full remote control with Miele@Home with Wifi, timer delay, steam finish, specialist cycles. There are also 5 different Flacon scents for beautifully fragrant laundry.
---
Energy Saving Tumble Dryers
You'll find energy-saving tumble dryers with advanced features for optimum garment care. Award-winning products and Which? Best Domestic Appliance Brand awards confirm their top spot in premium household goods.
Reliable Brand Tumble Dryers
Don't expect cheap tumble dryers from this excellent German brand instead lookout for superior products offering reliability with greater efficiency. Miele tumble dryer reviews by Which? highlighted how well these higher-end models proved to be. A list of recommended Best Buy tumble dryers offers a comprehensive collection of dryers that make the grade with quick drying times, even drying throughout and relatively low running costs.
Quality Kitchen Appliances
Their extensive product range includes Miele washing machines, dishwashers, fridge-freezers, vacuum cleaners, steam ovens, washer dryers, tumble dryers and more. Designed and tested for 20 years of average use Miele tumble dryers come with impressive quality pledges: a 10-year guarantee against the breakdown of the stainless steel drum, a lifetime guarantee on the motor, door hinge and on the yellowing of the direct enamelled front panels and any corrosion.