White Knight Tumble Dryers Compare Prices and Models
White Knight Tumble Dryer Range
Unfortunately, White Knight ceased trading in 2019
The home of reliable tumble dryers proudly manufactured in the UK. Based in Halifax, North of England White Knight is fast becoming one of the most trusted brands and a popular choice for many.
Compare Prices Low Price Tumble Dryers
The White Knight range include compact and traditional electric vented and condensing dryers in silver or white but they are best known for their energy-efficient gas tumble dryers. Prices vary from cheap models between £100 to £300 with some a little more expensive.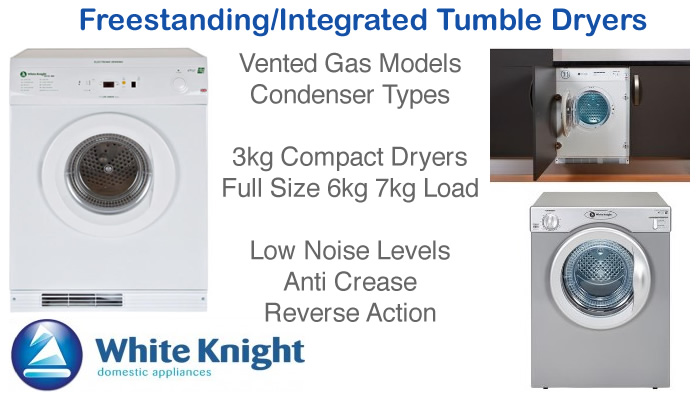 Latest White Knight Tumble Dryers
Shop the latest White Knight Tumble Dryers including freestanding and integrated vented, condenser and gas models. You will find compact tumble dryers with 3kg load capacity for small households along with full size 6kg and 7kg dryers. Features include sensor drying, anti crease cycles, reverse tumble action and low noise levels.
---
Compact Small Size Tumble Dryers
Compact tumble dryers are ideal if space is limited and you like the convenience of these time-saving appliances. Drying capacity is typically 3kg and features differ between models. You'll find a 140-minute timer, vent hose, reversing action and wall-mountable option.
Vented Dryers
Freestanding electric vented models come with automatic sensor drying settings as well as manual program options. Built-in vented models are also available that are designed to fit inside a kitchen cabinet. Features include quick and easy care programs with less creasing and manual timer.
Gas Powered Tumble Dryers
Gas-powered machines really do a good job of drying clothes in very quick time. Which? reviews on White Knight gas vented tumble dryers highlighted their superb drying performance and low running costs compared with an electric dryer. Two machines were worthy of Best Buy status and scored well across a number of prime features. However, these types of tumbles dryers need to be professionally installed and serviced by Gas Safe Register engineers. They are one for the short list if you are a regular user and want a tumble dryer cheap to run.