Zanussi Tumble Dryers Compare Prices and Models
Compare Zanussi Tumble Dryer Range
Another leading brand in home appliances is an Italian company, Zanussi. Innovative designs and affordably priced products make them a popular choice on par with Hotpoint and Bosch in the UK. Their range includes a new heat pump condenser and vented tumble dryers with many machines having reversible doors with sensor drying that can handle up to 7kg of wet washing.
Compare Zanussi Tumble Dryers Prices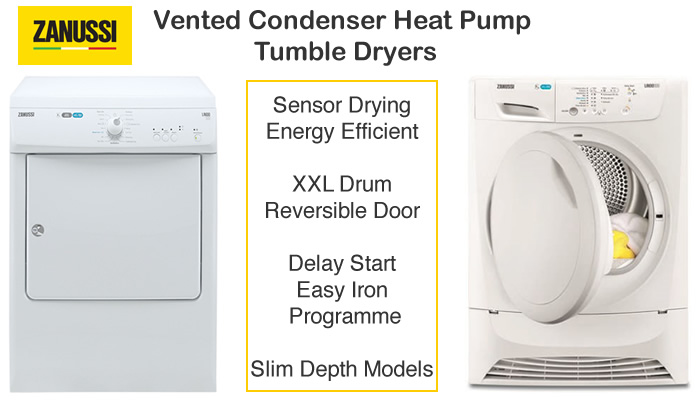 Latest Zanussi Tumble Dryers
Shop the latest Zanussi Tumble Dryers including freestanding vented, condenser and energy-saving heat pump models. You will find slim-depth tumble dryers at 54cm deep along with standard size 6kg, 7kg and 8kg dryers with sensors. Features include delay start function, easy iron program, XXL large door for easier loading, reverse tumble and inverter motor that is super quiet.
---
Manual & Automatic Drying Machines
A reliable brand with a choice of freestanding tumble dryers featuring manual or automatic drying sensors. Clothes are dried evenly with helpful features making light work of the weekly wash load. Speedy performers have easy-care and iron dry programs plus an anti-crease function. Easy to load and unload, simple to use programs and quick-drying can be found across their selection of tumble dryers.
Zanussi Vented Tumble Dryers
Zanussi vented tumble dryers can be fitted with an exhaust hose up to 2 metres long and attached to the right, left or back. This is essential to carry condensation away from the drum. Condenser tumble dryers, on the other hand, don't need to pump damp warm air through a hose. Instead, the moisture is collected in a water tank.
Compact & Slim Depth Tumble Dryers
Save space in your kitchen or utility area with a stacking tumble dryer. Zanussi offers a range of dryers designed to sit on top of a washing machine or even hung on the wall. Special programs make laundry day less of a chore allowing more free time doing things you like best. Crease-free technology is a bonus too with easy iron programs minimizing wrinkling.